Hello, I'm Cristy.Thank you for viewing my site to learn more about me. I'm located in Halifax, Nova Scotia, Canada and I hope what you see here will entice you to want to visit me in person. I look forward to hearing from you......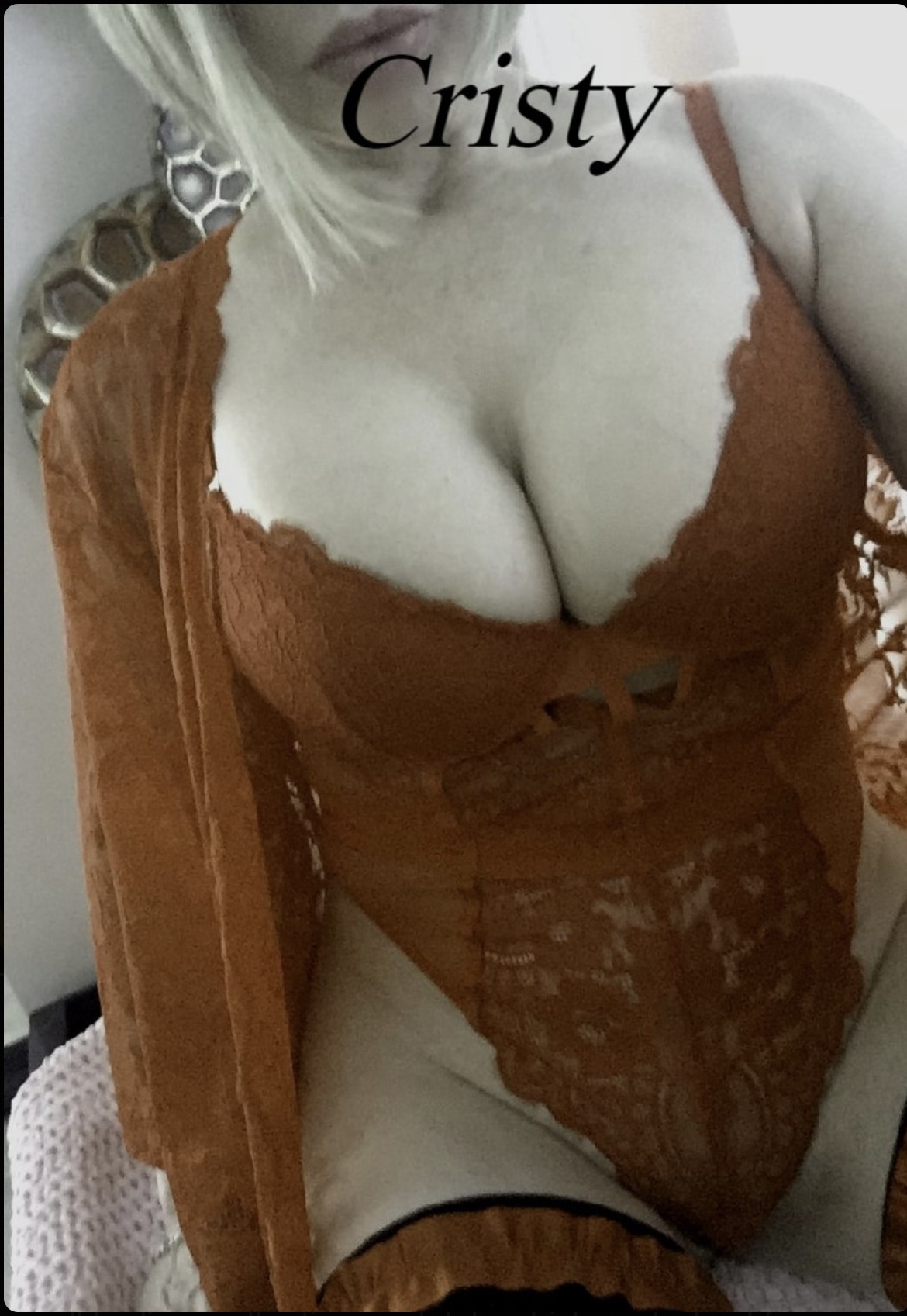 A little about me:
I am an imported Haligonian, and I love living here in Halifax, Nova Scotia. I'm educated, perfectly imperfect, maturing gracefully, and enjoying all life offers me. I have past experiences in esthetics, sales and design. I now spend most days shopping, discovering a new restaurant, finding new places to hike with my beloved dog, learning something new, or just doing whatever it is I decide to do at the moment. The highlight to any day, week, or month, is when I accept an appointment with an interesting gentleman. I prefer longer, unrushed appointments, whether they be spent at my discreet locale or out at a cozy restaurant.
What you can expect:
I take a sincere interest in meeting the needs of my clients. Our time together will be authentic, and as unscripted as our connection allows. It will unfold naturally, dependent on the chemistry and compatibility we share. When we meet, you'll feel adored, safe, comfortable, and pleased to meet someone who is as she advertises, and who offers what she has promised.
What I expect of you:
The gentlemen I choose to meet with should be respectful, without agenda, hygienic, discreet, mature (over 30), professional, intelligent, articulate, and I hope, will also have a great sense of humor, I love to laugh!! I never choose a client because of his race, looks, or social standing. Where you are from, what position you hold, how much you earn, or what material possessions you have means little to me, unless you plan on including me in your will, lol. I want to meet men of good character. Those who are benevolent, who are confident, yet humble, and who have humanity. My time is as sacred as yours, and who I spend it with matters to me.
My physical attributes
I am tall (5ft 9in), 130 lbs, proudly mature (50's), blonde all over, of European descent, born and raised in Canada. Now happily settled in Halifax, Nova Scotia, Canada.
My hair is short (above my shoulders), thick, stylishly cut, and varies from being a light, or darker shade of blonde .....
My eyes are warm, enticing, and a pretty hazel green
My seductive lips are naturally full, tempting, a treat to kiss, and gloriously talented! It has been said, "They've the ability to raise the dead"!!
My body is soft, divinely curved, and moderately fit. Certainly not perfect, but well proportioned at 36d-26-36.
My legs are nearly 36 inches long, toned, and love to be adorned in sexy stay up stockings.
My breasts have been enhanced from a pretty and perky 36c, to a sexier more voluptuous 36d, but you'd never know by touching them!
I'd make any gentleman's arm a wonderful compliment .

My philosophy:
Life is an echo. What you send out, comes back. What you sow, you reap. What you give, you get. What you see in others, exists in you.

I believe kindness begets kindness. Do a good deed and a deed will do good for you. Pay it forward, do something nice today and it will come back to you ten fold. But don't be kind simply for it's reward, be kind and compassionate because that is what being human should represent.
My passion:
Animal welfare/strengthening laws/preventing abuse:
I'm a staunch supporter of animal rights. I believe animals are our equals, not our chatel. They deserve respect, kindness, and a right to live without cruelty. I work to bring awareness of atrocities committed against animals and punishment towards those who commit such abuses. Please, if you see abuse, report it, and if you can, donate to a shelter or an animal charity. They are all in such need and it is donations that keep their doors open, which provide homes and help for many animals in need.
For those who get their pets from breeders or other sources, PLEASE ALWAYS SPAY AND NEUTER your pet. Many shelters have no choice but to euthanize animals due to lack of space and available homes.When you choose to home a pet, they are your responsibility for their lifespan, not until you tire of them! Thank you:)
AND please if you must eat meat "eat with your heart" choose humanely raised food:) Buying grocery store meat is in most cases supporting factory farming, as is buying fast food products. Factory farming causes more pollution than most cars, unneeded suffering for the animals, and is a very unhealthy way to eat. Buy local, organic, or from a known "actual" farmer. You'll do your health and planet the biggest favor!!
Reviews/Reco's:
I now have a no review/recommedation policy

( to read more about this, see my blog https://www.cristymature.net/blog/a-no-review-policy27/ ). Please respect this. In an industry where discretion is heralded and promoted, it seems hypocritical and counterproductive to post who's seen who, when, where, and what they've engaged in.......So I now prefer that our date isn't rated, or made fodder for public viewing. I'd prefer it be kept solely between you and I. I also believe from my experiences, the sites that thrive from reviews and recommendations, also thrive on misinformation, gossip, and other unsavory aspects of this industry. Thank you for understanding.